As the Canadian winter recedes once more and spring slowly warms the lands, the Canadian Premier League has once again taken the opportunity to make headlines with a – now traditional – full reveal of every primary jersey to be worn in the new season, with the latest campaign scheduled to kick off on April 7th. Eight brand new kits, worn coast to coast throughout 2022; it remains to be seen who will win the league this year, but that doesn't mean we can't already crown one club for having the best threads this year! Welcome to our latest edition of the Canadian Premier League home shirt rankings;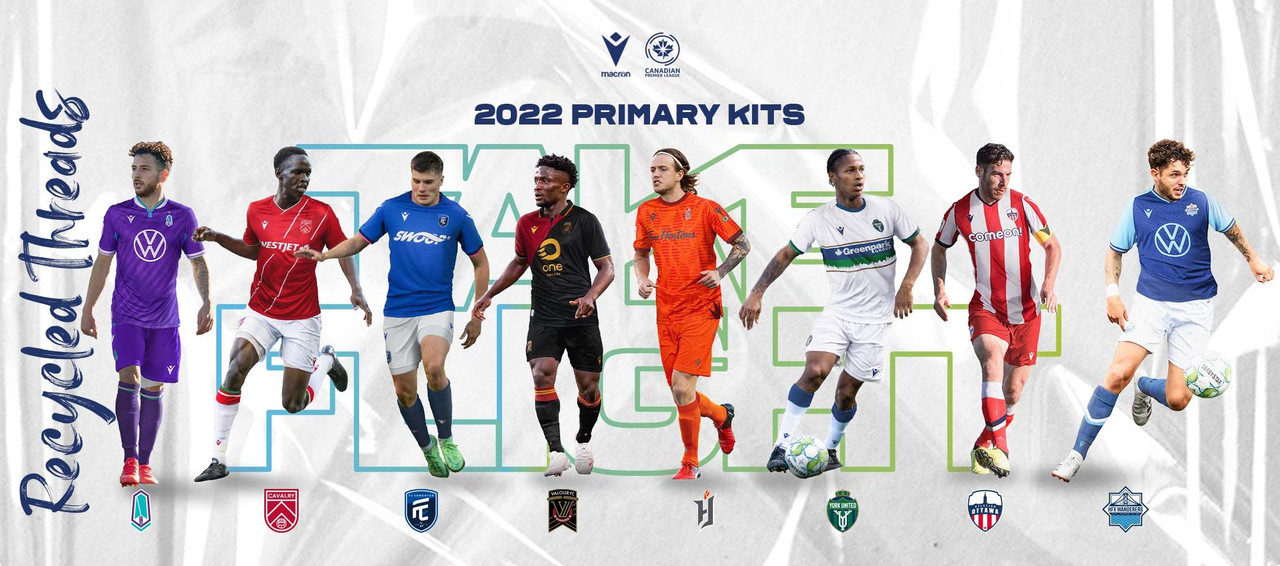 The league is now heading into its fourth season of play following a promising launch in 2019 and the two seasons that followed, both of which affected by the COVID-19 pandemic but ultimately brought to successful conclusion. As the nascent league keeps chugging along, so too does the humble blog you are reading right now as we have covered the CanPL's kit launches twice previously, for 2020 and 2021. If you're keen to remember the looks of yesteryear, you can find both articles via the following links;
All eyes today are on the latest batch of shirts, however, and so they should be as the league and supplier Macron have delivered a fresh range of eye-catching designs with a brand new theme which is prominently featured in the marketing material for this year; sustainability. In line with industry trends Macron have developed eco-friendly manufacturing processes and materials the Canadian Premier League is now making grateful use of. All eight kits on show today are made of the brand's 'Eco Fabrics', which the marketing department tells us are a range of polyesters made of 100% recycled plastic, shredded into small pellets from their original source (think discarded packaging and other such materials) before being reworked in thread for use in the shirts. Each purchase thus comes with the warm, fuzzy feeling of knowing that you are doing your bit to keep plastic polution to a minimum.
Environmental concerns aside, we're quite excited to once more delve into the individual designs and how they compare to one another, but one final quick preface is needed; as is the case in the MLS (adidas) and used to be the case in Australia (Reebok), the Canadian Premier League continues its centralized deal with Macron as its sole apparel supplier, delivering bespoke shirts to all eight clubs. A distinctly North American phenomenon, as most every other league across the world allows teams to pick their own suppliers.
That's good for the league's bottom line, no doubt, but let's find out if the same can be said for the designs! We will be evaluating them based on the same set of criteria used for the 2020 and 2021 rankings;
Strength of design
Detailing
Sponsors and the way they are integrated
As always, we won't be judging based on 'Tradition' (which is a metric used for our other series of Rankings) as 2022 will only be the fourth season of play for most of the eight clubs. We also won't be making any judgments based on price, which remains equally high across the board; with no competition to drive prices down, Macron and the teams each ask for 120 CAD for each individual top.
You'd better get a well-designed shirt in return for all those Dollars, but every ranking has to have a wooden spoonist to start off the list. Pacific FC received that dubious honour in both 2020 and 2021, but this year, we're going to start off with….
8. Pacific FC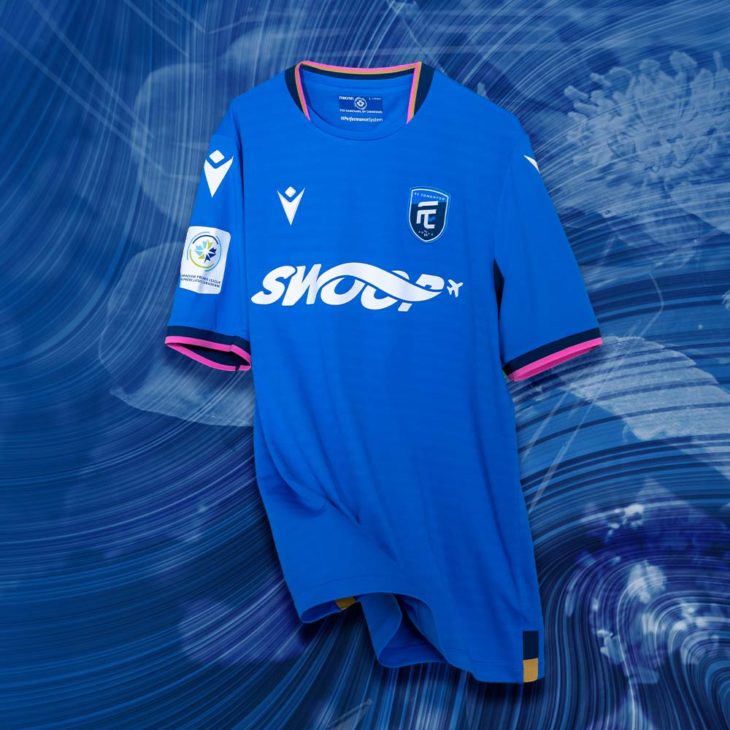 FC Edmonton, who placed fifth on our 2020 and 2021 Rankings, drop down to 8th place this year with a shirt that continues their tradition of workmanlike designs, albeit with some poor choices regarding detailing that ultimately made us decide that this was Macron's poorest effort for the year.
Royal blue as always, yes, but with hints of pink, gold, and navy! Pink, because the wild rose is the official flower of the Province of Alberta. Gold, to honour the region's fields of wheat. Navy, because that's the usual accent colour. And Macron even claims there's some green hidden near the hem as well. Sometimes, in design, less can be more – especially when it comes to number of colours. And if you're bold enough to include four (or five), you had better make sure they match well. Blue and navy are totally fine, but gold and pink together is a bit too shocking – even for a blog known for its awful taste.
Of course, it'd be too easy to knock Edmonton for just the colours, which aren't the only issue here. Besides the cavalcade of colours, promotional material claims the shirt's other big selling point to be the presence of 'a faint jacquard striped pattern inspired by the blue Albertan skies'. The keyword there is 'faint' because the effect is hardly visible, and even then is only a dime-a-dozen jacquard, horizontally placed across the shirt. We will give credit for it being repeated across the back of the shirt, but ultimately, it's not particularly nice or inspired – never mind the excuse the marketing department gives us. Much room for improvement for next season, then.
7. Atlético Ottawa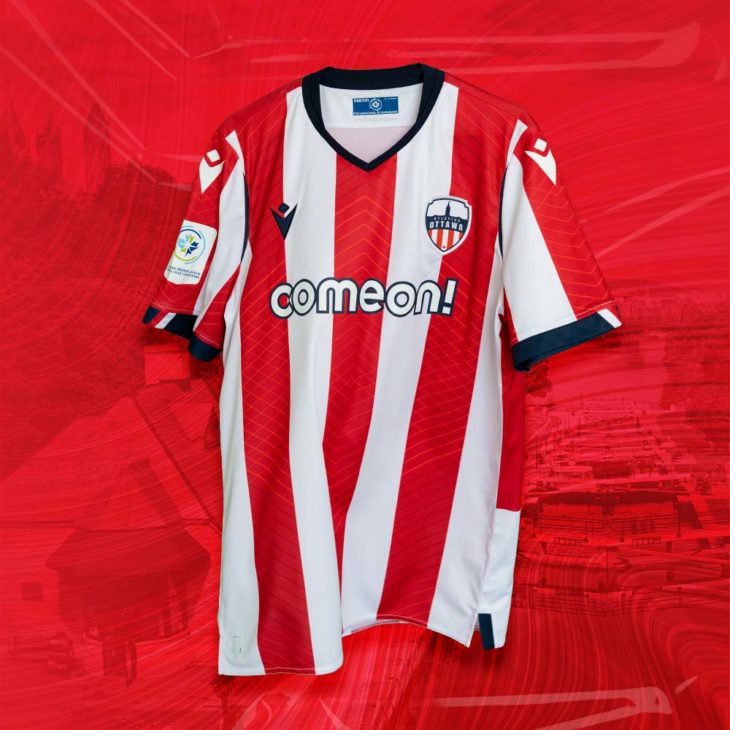 We're still not quite sure why a big Spanish football team needs a satellite team in Ontario, but we're happy they're on board to make the league an even eight teams regardless. And because nothing quite screams 'we're owned by another club' like adopting that side's traditional shirt design, we've got red and white stripes here – with a novel, modern twist applied.
Ottawa did read the memo regarding use of colour, as we've just three main ones here which all work quite well together – there's nothing quite like that classic red and white, with navy naturally complementing both. However, as was the case with Edmonton, the detailling is slightly too enthusiastic here with the red stripes featuring a busy network of zigzagging lines. The design team claims these were inspired by the locks of the Rideau Canal, but one can question whether that link isn't just a bit too strenuous. The effect is ultimately lost in our eyes, and diagonal trim on the sleeve cuffs just adds more chaos to an already busy shirt.
Bonus points for once again featuring a big ol' maple leaf on the reverse, but it ultimately doesn't elevate this shirt any higher than 7th. It's not bad (and you could argue that even Edmonton's isn't bad), but there's simply much better on offer this season.
6. York United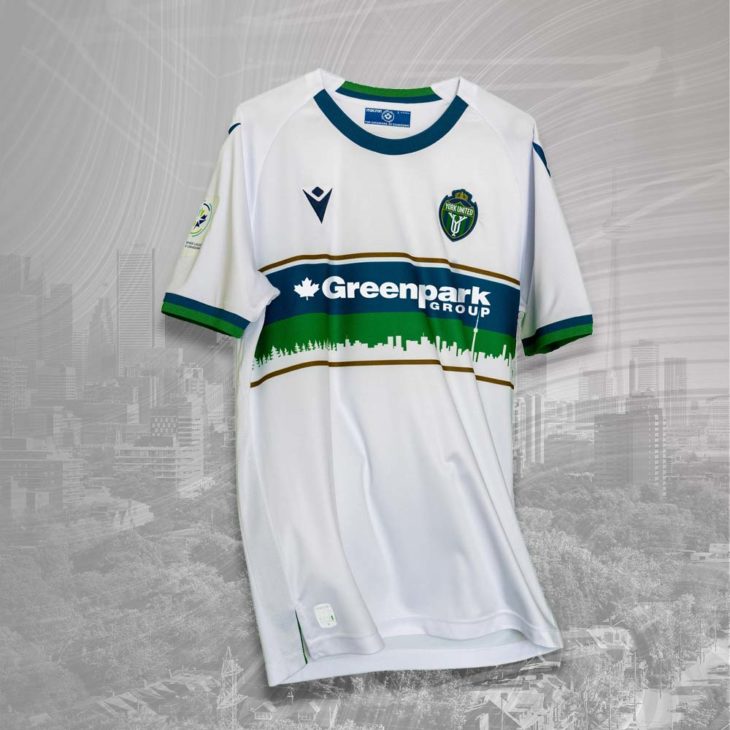 York United. Formerly York9. Quite the early rebrand, but one that ultimately may have been for the best. The club kept its colours despite the change in name and crest, and have worn some excellent designs in the past seasons. This latest effort is another striking kit, although not quite as good as it could have been.
A chest band is a simple way to draw attention to a shirt, but this particular specimen has gone slightly overboard in doing so. Three colours – blue, green, and white – sandwiched by gold piping with the skyline of Toronto and the treeline of northern parts of York tossed in for good measure. The end result feels unbalanced due to the blue and green bands being thicker than the white, the white cutting into the green, and the sponsor being in the top half of the band rather than in the centre. We love a chest band, we love a skyline, and heck, we love York's colours, but the designers clearly got overexited in their application of all these different elements.
A more preferable solution might have been to make the skyline blue or green and move it to the bottom hem on the back of the shirt, leaving a much cleaner chest band as the pièce de résistance. Instead, by trying to do too much, it ultimately trips over itself and causes a mess. It speaks to the strength of York's three colours that the pristine white and otherwise restrained piping on the sleeves still makes this shirt worth your time.
With the club having now run a central stripe in 2020, a cross in 2021, and a chest band in 2022, it makes one wonder what they might try for 2023. Maybe a sash? Now that we're on the topic anyway….
5. Cavalry FC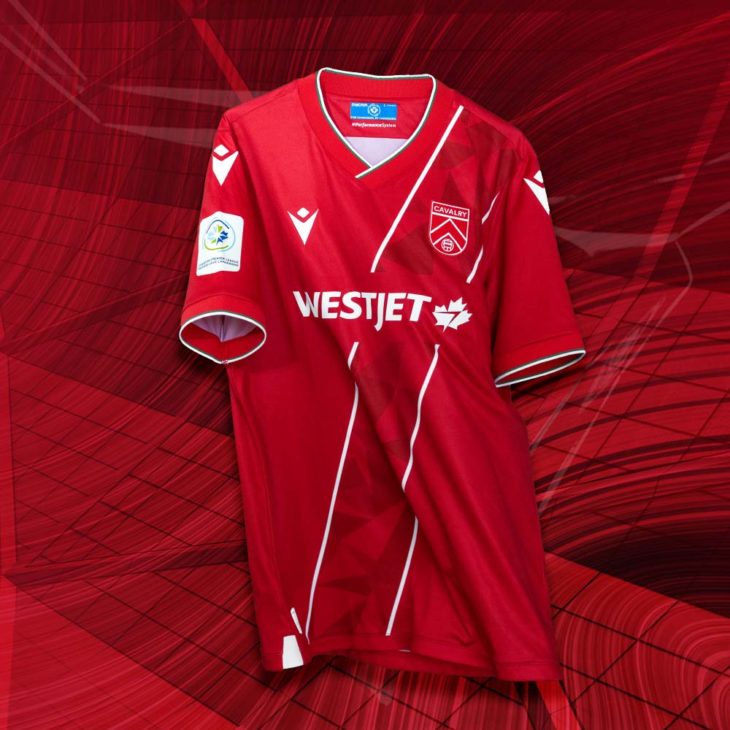 We love sash, you love a sash, everyone loves a sash! And if you actually don't, well, we politely disagree with you – this is one of those evergreen classic designs that really captures the imagination and has been put to good use by so many teams over the years. Cavalry were one such club, making use of a particularly simple but effective white on red sash in 2019 before getting bogged down by a gimmicky shredded sash in 2020 and a plain red shirt in 2021.
However, this season marks a firm step back towards their original look with a understated sash picked out in white and filled with 'angular shapes', claimed to have been inspired by Calgary's unqiue skyline. We don't quite know about that – the marketing blurbs remain as silly as ever – but hey, it's still a striking look. Not as good as it could have been, though.
That's down to a couple of factors. Firstly, the sash is broken in two for the sponsor. Unavoidable in most cases, but something that needs to be called out all the same. Secondly, the sash stops at the rather large bottom hem, making it look unfinished. Macron would have done well to match Cavalry to a different make of shirt from their catalogue, as you will notice that most of the other teams do not have a hem this big. Quite a significant oversight in our book, but we still think this top will be well received by the Cavs' fans.
4. Forge FC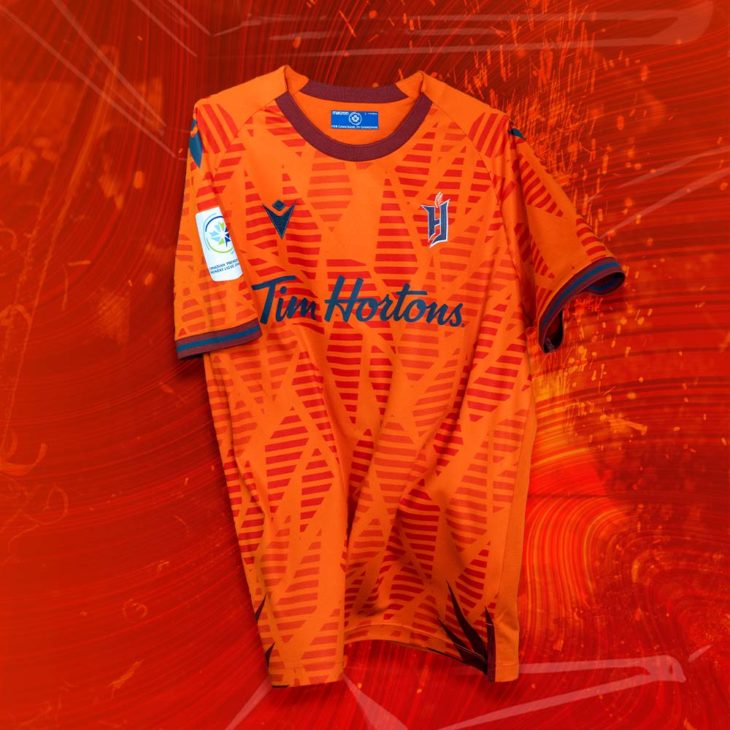 How about them Hammers, huh? Champions in 2019 and 2020, runners-up in 2021. And now they bang out a shirt as eye-catching as this.
You see the crest, you read about the club's identity, and then look at the shirt – it all makes sense, visual storytelling tying the club to the industrial heritage of its region, albeit now through a tone-on-tone pattern in two shades of orange that emulate the sparks flying from a hammer hitting hot steel. Much, much better than that timid little dragon they brought onto the shirts in 2021.
Rather than channeling their inner beast, the club inadvertedly call to mind the classic look of the Brisbane/Queensland Roar with the introduction of burgundy to replace white as an accent colour, but it's a striking look no matter what obscure reference involving a team thousands of miles away you come up with.
It's not all good though; there is a superfluous navy trim representing a 'spiked flame' at the bottom hem, and the back of the shirt is plain orange, lacking the pattern that dominates the front. We would have loved to place this shirt higher, but for that to have happened, we really would have liked for Macron to put in the effort and do more with the reverse. Not that this is an issue exclusive to Forge.
3. Pacific FC
Pacific finished dead last in our rankings twice, but this year they shoot up all the way to third – perhaps fitting given they finished third in the standings last season, going on to win the title by beating the Cavs and Forge in the Playoffs.
Our criticism for the 2020 shirt; the starfish and fade are weird. For the 2021 shirt; the hoops ('ocean-surface gravity waves created by distant storms out at sea') are lame. Our feedback for 2022; BRO, LOOK AT THOSE FIRS!
Yes, indeed, firs. Douglas firs, to be precise, strewn across the shirt with purple fading from dark to light to pick them out properly. Just excellent. No more nonsensical marketing, just a bunch of trees to honour the region. Finally, a design that really helps the purple and teal shine, with a hefty dose of white to make sure things don't get too zany. Might be too late considering the pattern.
However, this shirt is only third and that is due to the somewhat eccentric collar – one of the poorer types in use this season which needlessly cuts deep into the shirt, interrupting the fir pattern – and the fact that the reverse is plain purple. Like with Forge, it feels like two separate shirts in one. Back in the early 90's, patterns could be applied across all parts of a shirt so it remains a bit of a shame that art of doing so seems to have been forgotten. Still, credit to Pacific; this is a firm step in the right direction.
2. HFX Wanderers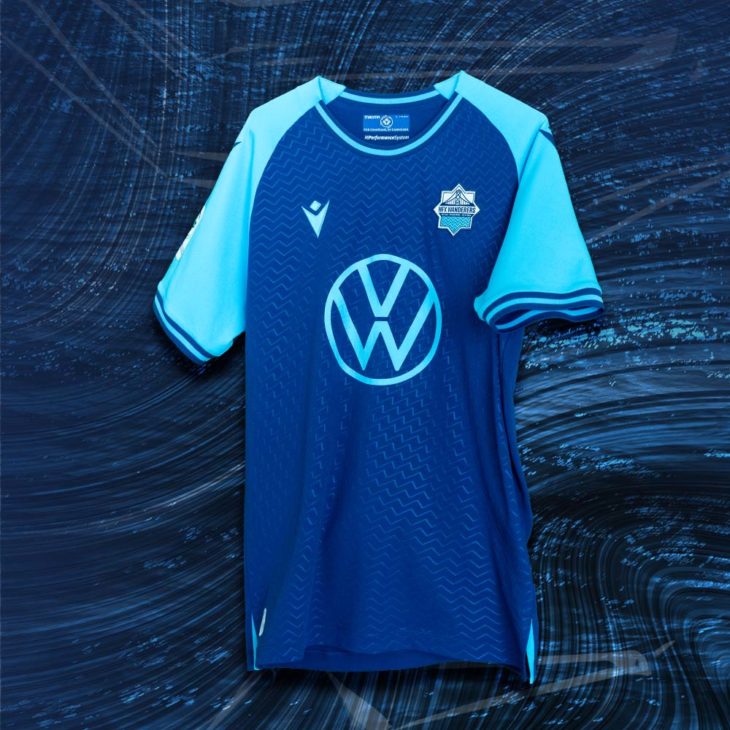 We're still not sure whether to pronounce the club's name as H-F-X or just Halifax, but the point is moot when they bust out a gorgeous shirt like this. Navy and cyan combine with a gorgeous debossed pattern to produce a shirt that's up there with the best this year.
That pattern needs calling out, said to honour the club's crest which itself is inspired by the waves of Halifax Harbour and the Atlantic Ocean. Rather than going over the top with the theme like Pacific did with the trees this year – and with starfish of all things in the past – HFX instead opt to keep things on the down-low, and right they are to do so as the understated lines invite a closer look in a way that is much more friendly than using loud colours and big, bold shapes to draw the eye. The pattern is – once again – absent from the back but this is much less painful than it was for Forge and Pacific, exactly because of the waves' subtlety. We can only wonder whether this was a consideration in the minds of the club's representatives when they met with Macron to discuss the new shirt.
Big shout out to sponsors Volkswagen as well, for both their loyalty to the two clubs they sponsor and their gorgeous logo, which is stylish enough to make us forgive its gargantuan size.
1. Valour FC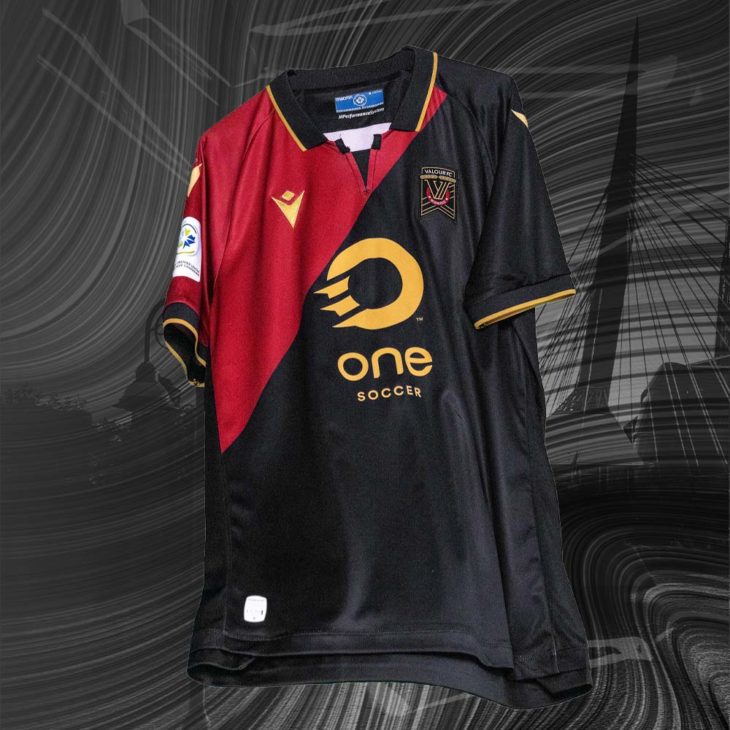 Ah, Valour. Hello. We meet again. In first place once more, as you were in 2021.
'When will you stop putting these guys at the top of your list' our readers ask. 'When they stop wearing great shirts' we answer.
Where York United outright rebranded, Valour have kept their name and crest but have yet to pass by an opportunity to reinvent their shirt. Red with black sleeves in 2019 – a good start, but not good enough as white sleeves came in 2020. Still not good enough, so we got a maroon-and-white harlequin in 2021, but clearly that didn't impress enough to be kept either. So, in the fourth year of existence, Valour just went back to the drawing board again to trot out a mostly black shirt with a smart diagonal cut across the right chest and sleeve to bring in familiar maroon. Gold as a tertiary colour for the cuffs, collar (a proper classic pop-up collar at that!), sponsor, and Macron's stick figure. Perfection, or at least as close as the Canadian Premier League can get to such lofty heights this year.
And that's not all! The shirts in 4th, 3rd, and 2nd suffered from a lack of congruency front to back, but Valour somehow convinced Macron – or perhaps taught them how – to bring that diagonal cut to the back as well! No plain black, but a mostly mirrored version of the cut on the front. Absolutely fantastic stuff, and a well-earned first place for Valour in our rankings. While innovation is to be praised, we wouldn't mind seeing the club stick to this particular theme going forward. The only point of criticism we can muster; the sponsor is just a little bit too big, but nowhere near big enough to weight the overall product down.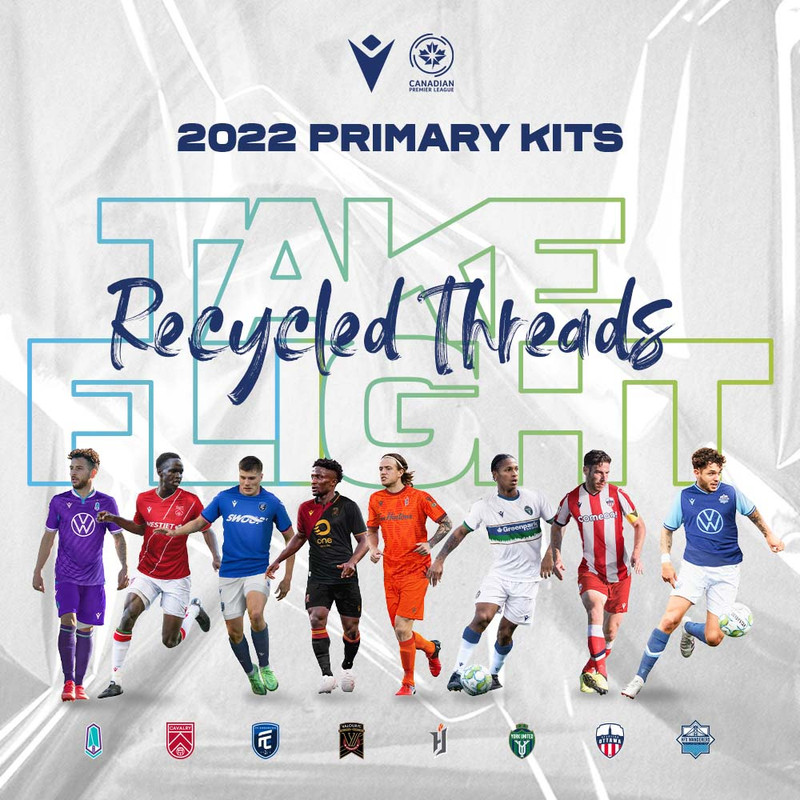 And that was it for this year! Eight kits, of which only one really disappointed where the other seven all had their own merits – some more so than others. Some welcome surprises in Pacific finally coming up with something good and Valour reinventing the wheel – again – while elsewhere the likes of Forge and York dared to think out of the box. And who can knock Cavalry for slowly edging back to the look that defined them in their first season of play? Not every batch of shirts can make for a vintage year, but the clubs' and Macron's efforts for 2022 really haven't gone amiss here. If only adidas and the MLS could do as well.
No doubt you'll disagree with some of the points we've made in this little ranking, or find yourself nodding in agreement here and there, but whichever it is, we do hope you enjoyed reading this article and perhaps learnt a thing or two about these exciting new shirts in the process! We'll leave you with the obligatory closing plug for our social media now, and hope to see you again in 2023!
In the mean time, we invite you to follow us on Twitter, like us on Facebook, and perhaps rummage through the Shirt Archive to see if any particular top warrants you taking a closer look at it. Thank you for visiting the site today, and all the best to you and your team in the 2021 CanPL season!)